Cherryblod
"Peace is best!"

Basic Info

Gender
Male
Species
Shrimp
Nicknames
Cherryblood, Dad, Dear
Relatives
Doloz (Wife), Lobco (Daughter)

Personality

Hobbies
Tea
Likes
Family Time
Dislikes
Unknown

Appearance

Height
176 cm. (5'9")
Hair Color
Pink
Eye Color
Red

Media

Manga Debut Appearance
Unknown
Appearances in Other Mogeko Works
None
Cherryblod is a supporting character in Wadanohara and the Great Blue Sea. He is the husband of Doloz, the father of Lobco, and was once known as Cherryblood.
Appearance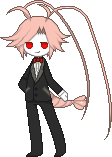 Cherryblod has light pink hair and two antennae that appear to have hairs sticking up in front of them. He has red eyes, with no pupils. Cherryblod has a pink shrimp tail that is similar to his daughter's, only shorter.
Cherryblod is always fancily dressed up, in a black tuxedo and red bowtie, as well as dark brown-- nearly black-- dress shoes.
Personality
Cherryblod is first introduced as a caring and kind father. He always has a carefree smile on his face. He cares deeply for his wife and his daughter.
Despite his nice personality however, he has a much darker side as seen in one of the bonus room videos. His bio also states that when he was younger, he used to be a bad boy.
Relationships
Gallery
See Also
Ad blocker interference detected!
Wikia is a free-to-use site that makes money from advertising. We have a modified experience for viewers using ad blockers

Wikia is not accessible if you've made further modifications. Remove the custom ad blocker rule(s) and the page will load as expected.